Tractor Mounted Hydraulic Rotary Rig (Direct Mud Circulation Method)
The system is very useful in congested areas where noise is prohibited.
Here the bore is made by drilling the ground using a Tractor Mounted Hydraulic Rotary rig.
The boring is done with the raimmer which has provision for sending bentonite solution under pressure.
The bored muck is carried to the sur face by the circulating bentonite (So it is called direct mud circulation system) Once the hard strata is reached socketing will be done if required.
The stratum for termination is identified by conducting Standard Penetration Test.
Once the boring is complete the borehole is washed by circulating fresh water continuously.
The specific gravity of the out flow solution is measured using hydrometer to ensure that the bore is properly cleaned.
Then the reinforcement is lowered followed by tremmie and the concreting is done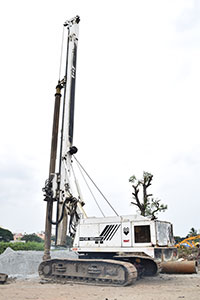 The boring is done with soil auger for ordinary soils and for hard strata rock auger will be used.
The boring will be carried out with a huge suction force and the bentonite solution will be directly pumped in to the bore hole to prevent the collapse.
The stratum for termination is identified by conducting Standard Penetration Test.
Then fabricated reinforcement will be inserted in to the bore hole.
Once the boring is complete the borehole is washed by circulating fresh water continuously.
The specific gravity of the out flow solution is measured using hydrometer to ensure that the bore is properly cleaned.
Then the concreting will be done by tremmie method.